Upcoming classes and events at HeartWish Healing Center
Your health is the most important aspect of your life, mind, body and soul! Taking care of it is not always easy or even practical but, it is something that you should take care of as often as possible. 
Join us at Heartwish Healing Center for our classes and events and enhance your well-being.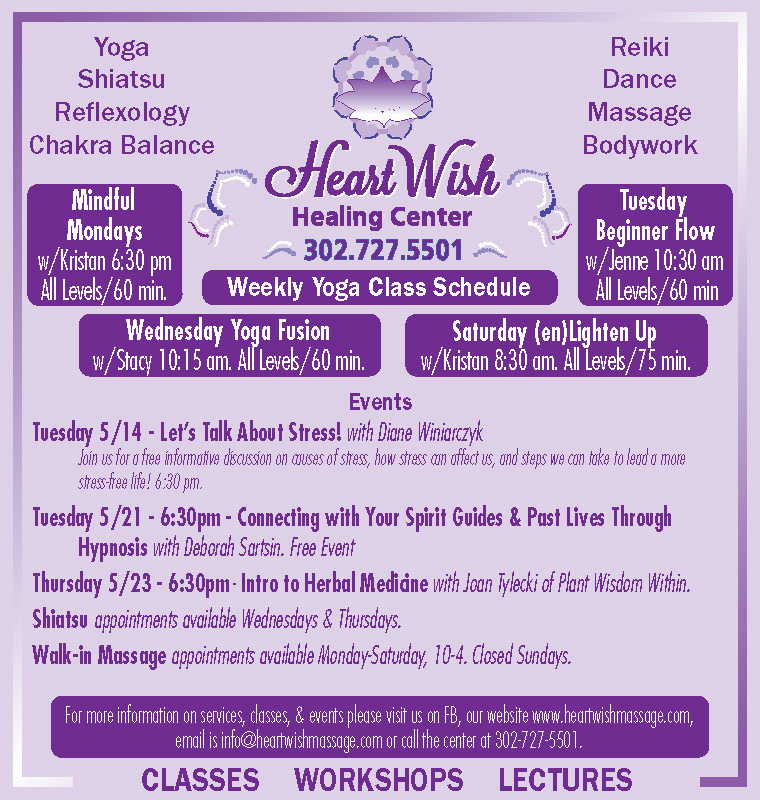 Upcoming Yoga Classes:
Monday - Mindful Mondays with Kristan at 6:30 p.m.  All Levels.  60 minutes
Tuesday - Beginner Flow with Jenne at 10:30 a.m.  All Levels.  60 minutes
Wednesday - Yoga Fusion with Stacy at 10:15 a.m.  All Levels.  60 minutes
Saturday - (en)Lighten Up with Kristan at 8:30 a.m.  All Levels.  75 minutes
Upcoming Classes and Services:
Weekly Bellydance classes with Katerina - Wednesdays, 6:00 p.m.  60 minutes
Shiatsu - appointments available Wednesdays and Thursdays
Walk-in Massage - appointments available Monday - Saturday 10 - 4 (closed Sundays)
Upcoming Events:
Tuesday 5/14 at 6:30 p.m. - Let's Talk About Stress with Diane Winiarczyk
Join us for a free informative discussion on causes of stress, how stress can affect us, and steps we can take to lead a more stress-free life.
Tuesday  5/21 at 6:30 p.m.- Connecting with Your Spirit Guides & Past Lives Through Hypnosis with Debora Sartain
Join clinical hypnotherapist Debora Sartain for a fascinating talk on how to access one's spirit guides and past lives through hypnosis! This is a free public event. 
Thursday 5/23 at 6:30 p.m.- Intro to Herbal Medicine with Joan Tylecki of Plant Wisdom Within
Please join local clinical herbalist and licensed nutritionist Joan Tylecki, MS, CNS, LDN for a discussion of the benefits of using medicinal plants to nourish, balance, and restore one's health. Please check out her website www.plantwisdomwithin.com to see her complete line of handcrafted herbal products or to schedule a consult at her Lewes, DE practice. This is a free public event.
For more information on services, classes, & events please visit us on FB, our website, email, or call 302-727-5501