The Ridings Releases New Phase
For those of you who have thought that you have missed out on your chance to live in a great, affordable community – Think Again.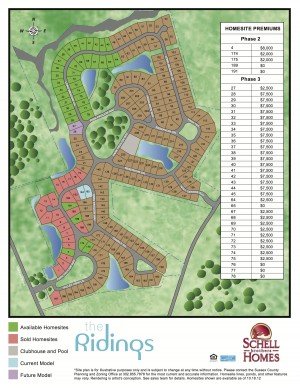 We welcomed over 20 new homeowners in just 10 months! Here's the great news… we have three remaining desirable homesites left in phase two before we move on to the final phase at The Ridings.
Very attractive and desirable homesites remain and we are continuing to offer $20K towards options in phase 2.
Recent news from financial publications have confirmed what we in the industry have been saying for several months, "It is the time to buy!" If you have had an opportunity to drive to our communities, you will see that folks have jumped on the "buy wagon" and are building their dream homes.
With all of that being said… We are heading into phase three and are now taking homesite reservations.
As you can see from the siteplan, we've acquired the most desirable sites in the phase. Each site in this phase are either backing to the woods, the pond or open space. This is your opportunity to reserve your homesite before they are released. We are now accepting reservations on a first come, first serve basis.
How to reserve your homesite in phase 3:
First, fill out the homesite reservation form. Be sure to pick your 1st and 2nd choice just in case…
Then, send your reservation back to us with your $500 (refundable) deposit to:
Schell Brothers
Attn: The Ridings
55 Cascade Lane
Rehoboth Beach De 19971
Reservations will be accepted in the order they are received.
Once new pricing and floor plans are finalized we will contact you with what is available and how to proceed.
Site work has just started in our final phase. Our current timeframe for settlement in this phase will be Summer/Fall 2013. This is a great opportunity to be the first to choose your floor plan and homesite.
Today
Tuesday, September 26
Wednesday, September 27